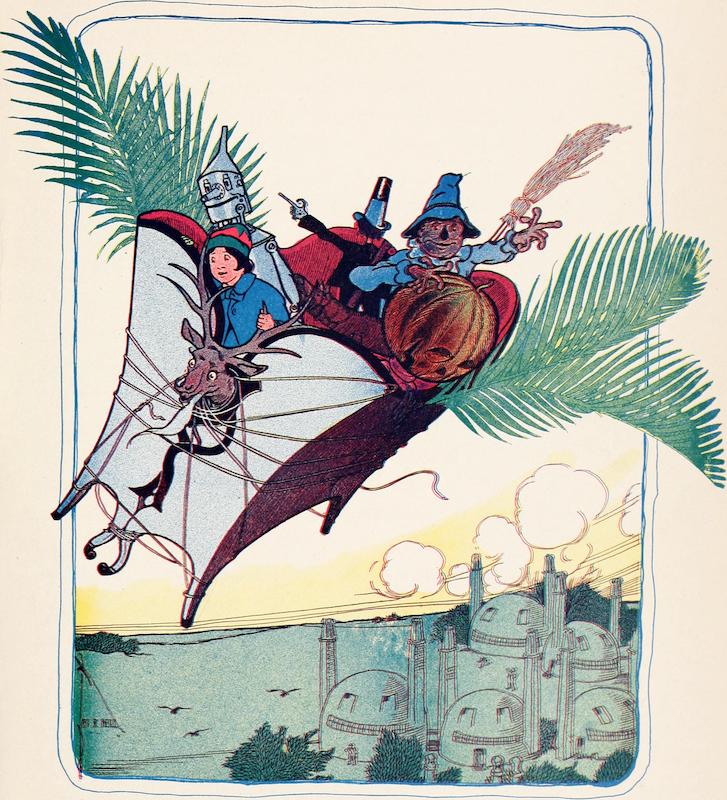 John R. Neill, The Gump soarded swiftly and majestically away, 1904. (Bildquelle: Wikimedia Commons)
The Gump is an amalgam of parts with the mounted head of an elk-like creature, first brought to life with the magic Powder of Life in The Marvelous Land of Oz (1904). Wogglebug combined the head with two sofas for a body, palm trees for wings, and a broom for a tail: all tied together with clothesline and ropes. After crashing into a jackdaw's nest, Wogglebug used a Wishing Pill to fix him. After the Land of Oz is retaken by Princess Ozma, the Gump is disassembled at his request leaving him a talking head that is still living in the Royal Palace of Oz.
The Gump also appeared in Dorothy and the Wizard in Oz where he meets and talks to Dorothy until Ozma arrives (for some reason, she doesn't like it when he talks).
The Gump is a central character in Disney's 1985 live action fantasy film Return to Oz, performed and voiced by Lyle Conway and assisted in the performance by Steve Norrington. Depicted somewhat like a green-furred moose, this Gump is assembled by Tik-Tok, Jack Pumpkinhead, and Billina, with Dorothy Gale applying the Powder of Life. This Gump escapes Mombi and survives the Nome King ordeal.